Breaking News
-
New CD release on Hat Hut Records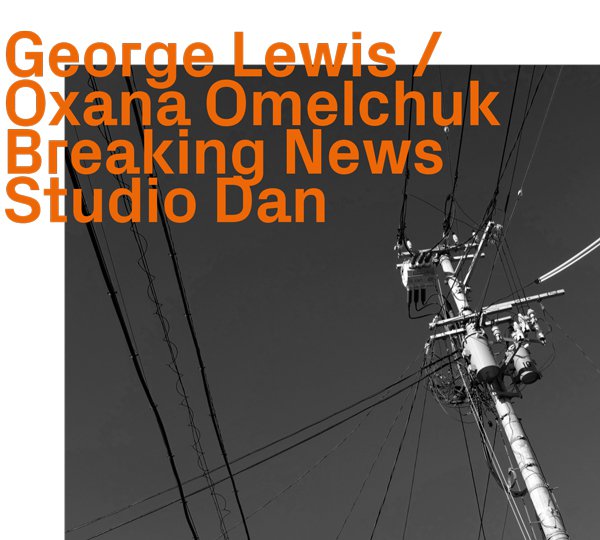 SHOP NOW
We ship free of charge and with invoice, payable after shipping, for 15 euros! Order here. (Don't forget to state the number of pieces and your address.)
BREAKING NEWS
With a highly concentrated program of only two pieces, Studio Dan announced the Breaking News in autumn 2017. On the one hand, it was the original music of the Cologne-based Oxana Omelchuk, and on the other hand, the highly condensed music of AACM icon George Lewis. Together with Matthias Muche as a soloist, we brought real news to the 49th edition of the venerable musikprotokoll of steirischer herbst in Graz.
The live recording of the world premiere and of a follow-up performance in Cologne are now being released on CD by Hat Hut Records Ltd. The collaboration with the Swiss cult label, which has been a trend-setting player since 1975, marks a new phase in the internationalisation of the ensemble,.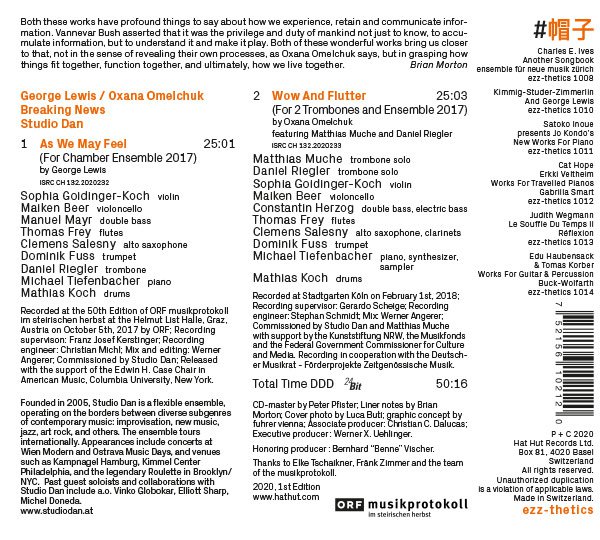 ©Hat Hut Records Ltd.
The works:
Wow and Flutter (2017, for 2 trombones and ensemble), by Belarusian composer Oxana Omelchuk, is a piece for two solo trombones, played by Cologne trombonist Matthias Muche and Studio Dan founder Daniel Riegler and ensemble.
Oxana Omelchuk about Wow and Flutter:
..."My unrelenting interest in the impermanence of things, reflected in the studies of the music of the past, leads me this time to the history of the record. The material from which the records were made as well as their different playback speeds, the discovery of unknown names, exciting stories and, above all, unfamiliar musical repertoire are at the center of my compositional interest. Names like Nikolaj A. Manykin-Nevstruev, Irene Abendroth, François-Adrien Boieldieu, Heinz Reinfeld, Eric Plessow, Joe Jordan hardly anyone my generation knows, but the importance of people for their time is undisputed.
This walk on the ruins of history, strolling on the musical flea market aims the realization that time is irreversible to disagree for a brief moment."...
As We May Feel marks, according to a statement by the composer George Lewis, along with other recent pieces, a new phase in his compositional work, which he has been paying his undivided attention recently.
George Lewis:
..."Inspired by Vannevar Bush's 1945 article, "As We May Think", in As We May Feel and other recent works, I deploy associative discourse via "behavior sets," complexes of elements that act in particular ways, recombining with other sets and recurring in new forms and guises. While the piece does not include improvisation from the performers, my recombinant structures act as associative assemblages that only receive full realization in their encounter with the listener, whose activity becomes one with that of the composer--as a form of navigation that explores how we may feel, with ludic engagement with indeterminacy, agency, analysis of conditions, the volatility of memory, and the ineffable moment of choice."...