Studio Dan plays ...
-
The Children's Concert with Music from Cage to Zappa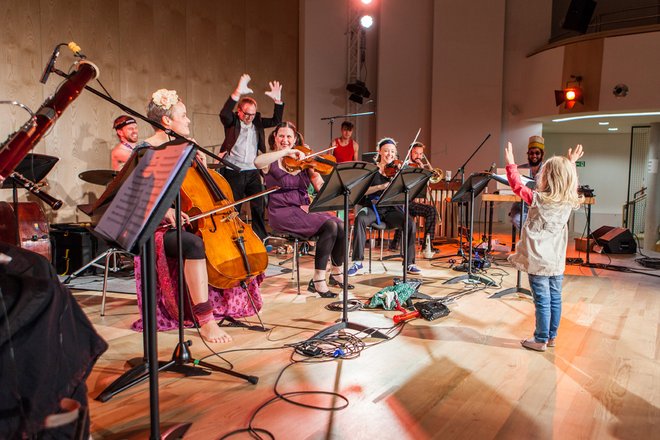 Studio Dan is a band – but not just any band. Studio Dan is a BIG band! At least 16 instruments are here to be seen and heard. Some musicians even play two instruments or more, the stage is jam-packed. Drums, bass, piano, trombone and trumpet, cello and turntable, marimba, oboe ...
Our children's project was the big surprise of last season. In collaboration with Manfred Weissensteiner of the theater education center TaO! in Graz, we have developed a 50 minute long concert for children between 6 and 10 years. At the premiere we saw standing ovations and not only from the children.
Director: Manfred Weissensteiner (Theater am Ortweinplatz, Graz)
Concept: Maiken Beer, Maria Augustin, Theresia Melichar, Margit Schoberleitner
Composers: John Cage, Tibor Kövesdi, Daniel Riegler, Leo Riegler, Salvatore Sciarrino, Giacinto Scelsi, Igor Stravinsky, Frank Zappa, Iannis Xenakis und Improvisationen.
Line-Up: Vl, Va, Vc, Kb, Fl, Ob, Fg, Tp, Pos, Klav, Perc, Elec, Dr, Dirigent
Studio Dan on TV - Start at 10.43