Music is THE BEST
-
A Tribute to Frank Zappa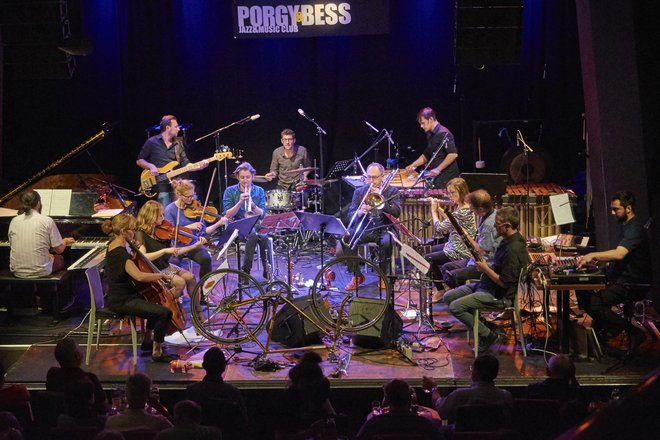 "Information is not knowledge.
Knowledge is not wisdom.
Wisdom is not truth.
Truth is not beauty.
Beauty is not love.
Love is not music.
Music is THE BEST."
-Frank Zappa
Studio Dan was founded in 2005 in Vienna. The name of the ensemble was derived from Studio Tan, a Frank Zappa album recorded in 1978. This way, zappaesque elements were firmly embedded in the formation´s DNA. Nevertheless, it took a few years before the ensemble dedicated itself to the opulent oeuvre of the American icon. Since 2008, Studio Dan has been working on several programs and has performed them repeatedly at the Zappanale in Bad Doberan, Germany, the Mecca of the worldwide Zappa community. Further performances at the Porgy & Bess in Vienna and at the La Strada festival in Graz, Austria followed.

A tribute to Frank Zappa has now evolved into far more than a show consisting of Zappa´s work. Rather, the ensemble strives to define its own approach to his music, as well as to create musical references. And talking about Zappa, who included personalities such as Pierre Boulez or Jimmy Hendrix among his friends, these references range from the so-called Western classical music as well as in the realm of rock, jazz or doo-wop.
Thus, the setlist contains mainly music by the celebrated composer, as well as music by Fred Frith, Edgard Varèse, Karlheinz Stockhausen and members of the band. Finally, a title of The Turtles may not be missing. As a special feature of the evening Studio Dan performs the Improvised Concerto for Bicycle, Prerecorded Tape and Instrumental Ensemble. This was presented by the 23-year-old Frank Zappa in a legendary appearance in the Steve Allen Show in 1963.
KomponistInnen: Frank Zappa, Edgard Varèse, Karlheinz Stockhausen, Fred Frith, Daniel Riegler, Christof Dienz and others
Line-Up: vl, va, vc, fl, sax/cl, bn, tp/fh, tbn, pn/key, ebass/db, elec, perc, dr
The Eric Dolphy Memorial Barbecue et al.
Peaches en Regalia live @ Zappanale
Inca Roads live @ Zappanale 2013