Comics & so much other stuff
-
Newsletter May 2021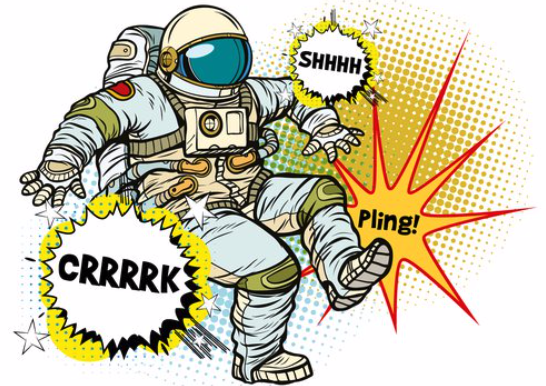 Dear audience,
dear friends,
before we are going to present a music, sound and movie gallery – including our new label and some releases – we want to share our virtual guest performance at the ACHT BRÜCKEN festival in Cologne with you. All in all, we have a lot of stuff to offer for the last few days of lockdown and the time after – so much stuff.
ACHT BRÜCKEN Cosmos | Comic
A long-planned concert series was scheduled for the last weekend in Cologne. The program included music by John Zorn and the new prank by Oxana Omelchuk, Holy ... - a world premiere. Zappa was also planned, but everything turned out differently. The result is an exciting program from the Studio Dan magic kitchen. We recorded at the Studio 3 of the wonderful Radiokulturhaus Wien together with Xizi Wang at the conductor´s stand. Tomorrow it will be released as a stream in two parts and then stay online for some time.
Wed, May 12, 2021 - 7pm + 9pm, https://www.achtbruecken.de/en/mediathek
Watch: Zorn - Omelchuk - Riegler
Watsch: Tribute to Frank Zappa
––
LOCKING FORWARD
LOCKING FORWARD is a showing of audio, film and multi-channel installations that were completed during the pandemic. We are also celebrating the founding of our label - records & other stuff - with three new releases that can be seen and bought there for the first time. In addition, original booklet artworks and other unique items can be seen.
Participating artists: Ensemble Studio Dan, Daniel Riegler, Melanie Hollaus, Christian F. Schiller, Michel Doneda, Karolina Preuschl, Lukas Schöffel, Eva-Maria Schaller, Nik Hummer, Xizi Wang, Leo Riegler, Fred Frith and many more.
Wed, May 19 - Sun, May 30, 2021, echoraum Vienna, Sechshauser Strasse 66, 1150 Vienna
Thu, May 20, 2021 - 8 p.m., Opening concert and reading
Reading
Karolina Preuschl - texts
Concert
Composition No. 107 (Anthony Braxton)
Clemens Salesny - Reeds
Daniel Riegler - Brass
Michael Tiefenbacher - Keys
Opening times and information:
https://studiodan.at/en/projekte/locking-forward/
––
records & other stuff
Not yet completely finished, we are inviting you to take a look at our new digital channel and to give us feedback on it.
https://records-and-other-stuff.at
Locking forward!
Studio Dan