LOCKING FORWARD
-
5/19/ – 5/30/2021 A showcase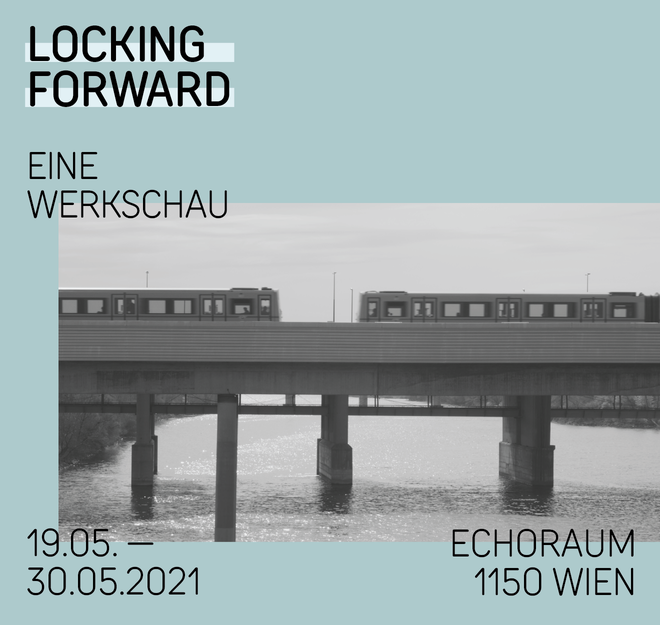 LOCKING FORWARD is an exhibition of audio, film and multi-channel installations that were completed during the pandemic. For known reasons, the artist collective Studio Dan needed to concentrate on (music) production away from the closed stages for the last months. Now, these current works will not be flushed into the www, they will be presented live – as an unusual music gallery project in a pandemic-safe manner – from May 19th to 30th at the echoraum (Sechshauser-Str. 66, 1150 Vienna). In addition, original booklet artworks and other unique items can be seen.
May 19 11:00 am – 4:00 pm preview opening
May 20 11:00 am – 10:00 pm official opening with concert
Composition Nr. 107 by Anthony Braxton and reading by Karolina Preuschl
May 22 11:00 am – 7:00 pm
May 23 11:00 am – 7:00 pm
May 24 11:00 am – 7:00 pm
May 25 11:00 am – 4:00 pm
May 26 11:00 am – 4:00 pm
May 27 11:00 am – 4:00 pm
May 28 6:00 pm – 8:00 pm
May 29 6:00 pm – 8:00 pm
May 30 11:00 am – 2:00 pm
Fanfare III. Audio-visual 4-channel installation of the music piece of the same name; new film works ("Ruins") by Melanie Hollaus are added; Length: 40 minutes. Fanfare III was created in 2012 and will be released as CD and listed as the number one (ROS1) of the newly founded label records & other stuff . Daniel Riegler's music can be heard exclusively in 4-channel sound in the echoroom. Melanie Hollaus has assembled moving pictures from Vienna "in a frenzy", as she puts it. The joint work is also a preview of future collaborations.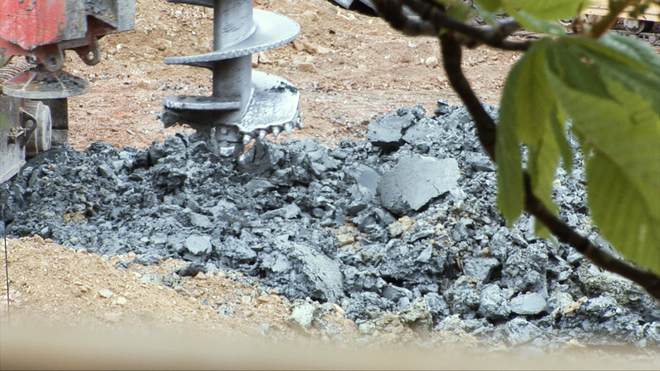 Ruinen/Melanie Hollaus
0NULL1EINS. Selection of objects from Christian F. Schiller's artwork for the newly released CD HOHNOR with the composer's piece of the same name. Studio Dan premiered Schiller's work HOHNOR for 2 harmonicas and ensemble in New York. It is now being released on CD (ROS2). A work from his found object collection 0NULL1EINS can be seen on the CD. The exhibited objects are for sale.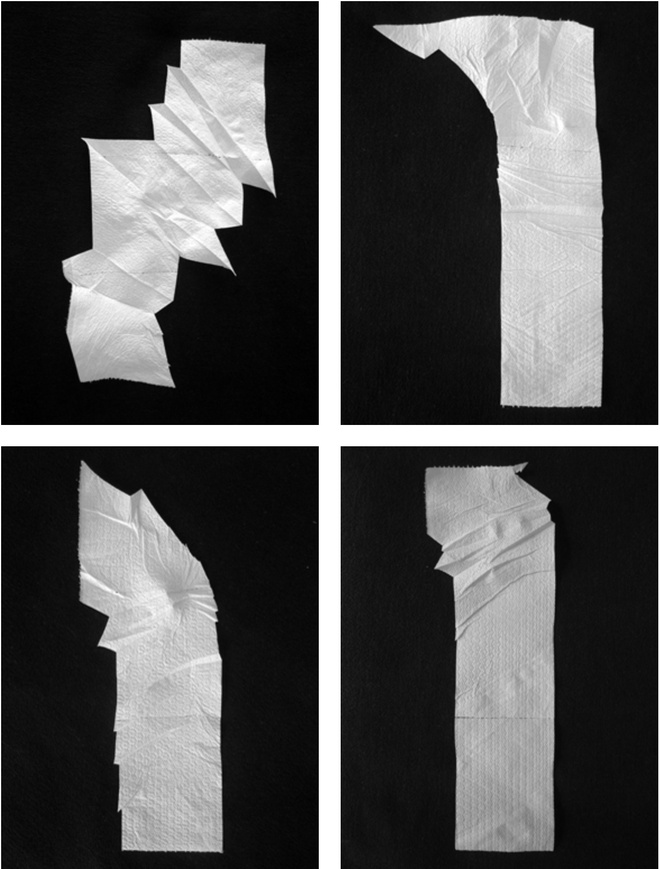 0NULL1EINS/Christian F. Schiller
Further video works:
Composition No. 63. Rehearsal recording from February 2021, Studio Dan featuring Clemens Salesny, Manuel Mayr, Sara Kowal; Conductor: Xizi Wang, Film: Melanie Hollaus; Music: Anthony Braxton; Length: 20 minutes. Almost the entire Studio Dan ensemble can be seen in the rehearsal recording by Melanie Hollaus.
Novy Hof. Film about (the project) Kurkonzerte im Franz-Novy-Hof, September 2020; Film: Lukas Schöffel; Length: 14 minutes. The Kurkonzerte im Franz-Novy-Hof were a series of concerts initiated by Wohnpartner Wien (Arno Rabl) in a municipal housing project in the 16th district. Lukas Schöffel accompanied the week on film and puts the primarily young audience at the center of his observations.
Femenine. Film by Melanie Hollaus about the future dance/music project in cooperation with the choreographer and dancer Eva-Maria Schaller; Music: Julius Eastman; Length: 6 minutes. Initially planned as a simple project teaser, Melanie Hollaus improvised an independent film work together with Studio Dan and Eva-Maria Schaller. The dance/music project Femenine Moves itself is planned for 2021/22.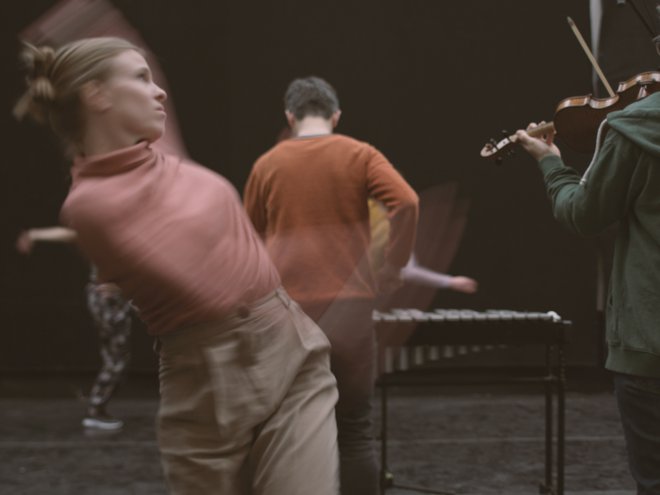 Femenine/Melanie Hollaus
Aufbruch zum Planeten Globokar / Departure to the Planet Globokar. Film by Melanie Hollaus; commissioned by the Elbphilharmonie Hamburg; Length: 12 minutes. Aufbruch zum Planeten Globokar was the pandemic-driven replacement program for the long planned first appearance of Studio Dan at the Elbphilharmonie Hamburg. A prequel of the children's music theater production Planet Globokar from 2016.
Besen / Broom. 10 cinematic couplets by Nik Hummer; Text and performance: Karolina Preuschl; Music: Studio Dan. Besen is the latest part of the SOS project, which Studio Dan has been working on together with Karolina Preuschl, Nik Hummer and Bernhard Breuer since 2019. Ten musicians improvise to a text part from Besen by Karolina Preuschl. The release of the program on CD is in the making.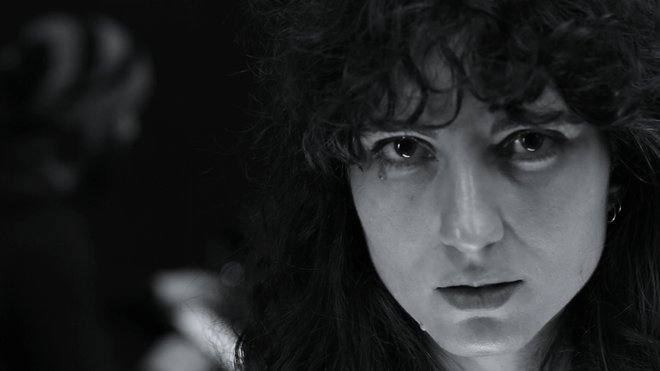 Besen/Nik Hummer
To be seen as well: the first CDs and commercially available artwork from the newly founded label and the connected webshop records & other stuff.
ROS1/CD – Fanfare III Studio Dan & Michel Doneda; music: Daniel Riegler, soloist: Michel Doneda, 39 minutes
ROS2/CD – HOHNOR Studio Dan, music: Christian F. Schiller, soloists: Doris Nicoletti, Viola Falb; 19 minutes
ROS3/CD – Rocket Science #1 #5 #8 Studio Dan; music: Fred Frith; 12 minutes
0NULL1EINS by CHFS and collages CARTOLINA'S by Michel Doneda