HHHhhhaaapppiiinnneeesssss
-
Newsletter June 2020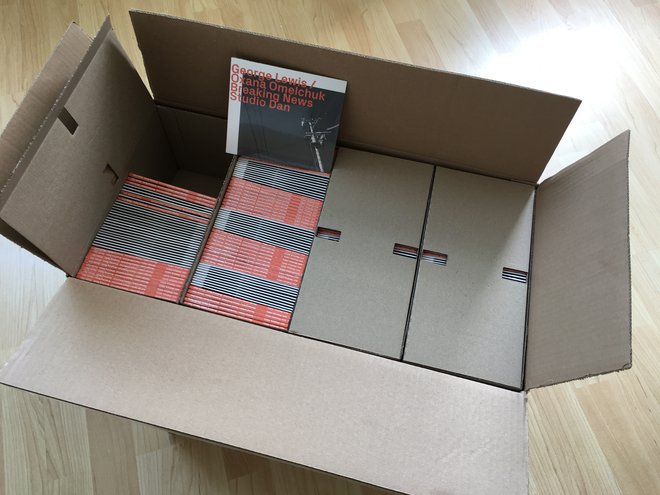 Dearest listeners and friends:
it is our good fortune that the extraordinary state of affairs has not kept us from a few moments of happiness. We'd like to share three of these felicitous announcements with you:
Happiness #1 – Breaking News CD
Breaking News is the title of a new CD containing two of our favorite pieces from Studio Dan's recent history. George Lewis's As We May Feel and Oxana Omelchuk's Wow and Flutter, commissioned by and composed for Studio Dan, are each a half hour of dense, cinematic music. Both proof of the striking originality of their composers – whose origin, age, and background are so different, and who nonetheless complement one another so perfectly, that you'd almost think we had planned it. Sublime.
We premiered the pieces, with Matthias Muche as soloist, in 2017 at the ORF musikprotokoll im steirischen herbst. This live recording, and that of a subsequent performance in Cologne, will be released presently on the Swiss cult label HatHut Records.
The simplest way to acquire this attractive CD, with its unmistakable HatHut design, is a decisive answer to this newsletter (don't forget the quantity and your address!). We'll send them to you for €15 apiece, with free shipping charges and an invoice payable on delivery – starting now!
Happiness #2 – Concerts at Styriarte and the Arnold Schoenberg Center
For our first post-lockdown concerts – and while the situation elsewhere remains uncertain – we have chosen a new program (with old music): Karlheinz Stockhausen's Tierkreis – zwölf Melodien der Sternzeichen ("Zodiac: Twelve Melodies of the Constellations") is a modern classic and a lovely exercise in "comprovisation" for our chamber music delegation, led by Raphael Meinhart. We are particularly tickled that we will be performing the program at the Styriarte festival and Vienna's Arnold Schoenberg Center.
Happiness #3 – 10 Days in Brigittenau
Soon, the long-awaited day(s) will finally be here: from 26 August to 4 September, after several changes in concept, structure, and name (VIRUS HANDELSKAI, TONIKUM….), we will be performing throughout Vienna's 20th District. From the district hall to overpasses, galleries, pubs, parks, studios . . . the program includes pieces by Anthony Braxton and James Tenney, performances by Peter Kutin and Christian F. Schiller, sound painting with Ceren Oran and improvised music with a cast of characters including Martin Siewert and Susanna Gartmayer. The complete program will be appended to the next newsletter.