Jeunesse Special
-
Daniel Riegler, Studio Dan & Guests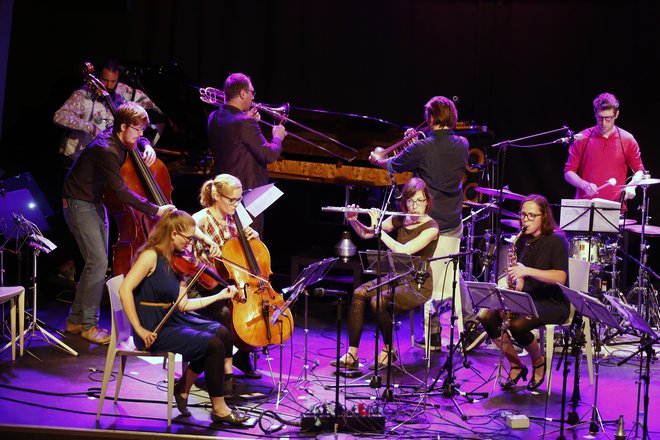 It's time! Our long-planned and announced major event, the Jeunesse Special, will be on stage of the Porgy & Bess in Vienna on October 11th and 12th. We present four new programs, including a world premiere (SOS 2019) and three premieres, our co-productions of the year 2019. In addition we are pleased to welcome our guests Anthony Coleman (Solo & Guests) and Elektro Guzzi & Polybrass.
Six sets in two days. Here an overview and further links to the individual concert dates:

Friday, 11. October 2019
Studio Dan "SOS 2019"
So, an absurdist piece of music theater in honor of the end of the world. With ritual music to banish the fear of loss, remembrances on the final days of humanity. Featured by Karolina Preuschl, Bernhard Breuer and Nik Hummer.
Studio Dan presents: Anthony Coleman Solo & Guests
On European stages, Anthony Coleman is far too rare to hear. As part of the Jeunesse Specials 2019 he joins us twice at the keys as well as with a brand new composition for Studio Dan on 12.10.
Studio Dan "The music of Julius Eastman"
It is only recently that the music of New York composer Julius Eastman (1940–1990) has been rediscovered. A new generation of ensembles, including Studio Dan, has lately been occupied with his musical resurrection.
Tickets from € 12,00 to € 25,00
Buy tickets
Saturday, 12. October 2019
Studio Dan "New York – Wien #3"
Continuing the series that began with Elliott Sharp and George Lewis, Daniel Riegler and Studio Dan are commissioning a composition by the New York pianist Anthony Coleman.
Augmented Reality – Series #1
One, two, three, four . . . compositions, played by one, two, three, four . . . musicians in one, two, three, four . . . minutes. A rigorous formal principle as the basis for expanding the comfort zone.
Elektro Guzzi & Polybrass
For their program Polybrass Elektro Guzzi has drastically expanded it's sound repertoire: on the stage, an ensemble of three trombonists is also joining and opens up a whole new spectrum of possibilities.
Tickets from € 12,00 to € 25,00
Buy tickets
Studio Dan is kindly supported by Kulturabteilung der Stadt Wien (MA7) & by Internationale Gesellschaft für Neue Musik (IGNM).