ZONK!?!!
-
Newsletter August 2020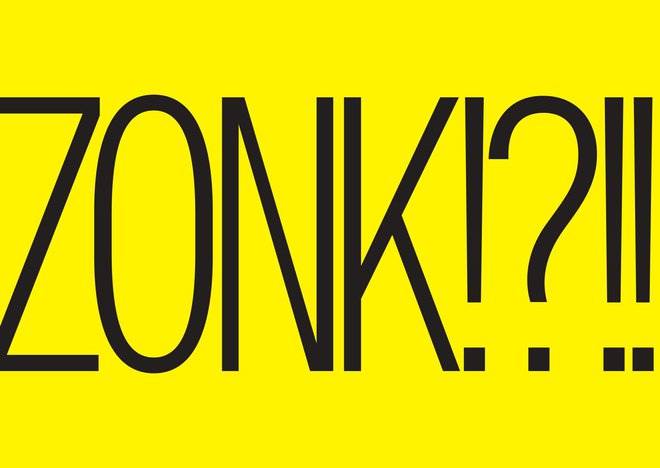 Honored public, dear friends,
since the city is currently flooded with the music adjudged most palatable to the ears of the masses by the Royal Curators, we spring nimbly into the role we like best anyway: the role of the Fantasist.
This – in the disparaging view of the dictionary – is a type of Enthusiast unable to distinguish between dreams and reality. Not bad!
Thus, in August and September, we bring a massive shipment of artists, the most extravagant fantasists and their fantastic music and art to the reality of Vienna's 20th District. Our dream? A multitude of open eyes and ears; that will suffice.
Free admission!
--
ZONK!?!! * visibly audible * 1200 * 26.8. - 4.9.2020
From 26 August - 4 September, we will be experimenting with artistic actions – some short, some even shorter – concerts, dance performances and installations in public spaces. We will offer guided concert walks on 29 and 30 August, as well as brief, announced surprises…and for all those who can't be there in person, all of the activities will be livestreamed.
Our venues stretch from Friedensbrücke to Brigittaplatz from Allerheiligenpark to the underpass at Friedrich-Engels-Platz, and many more. Several concerts will take place in galleries such as New Jörg and Kluckyland; a special event will take place in the historic Perinetkeller, the former atelier of the Vienna Actionists. The program includes compositions by Anthony Braxton and James Tenney, interventions by Peter Kutin and Christian F. Schiller, Soundpainting with Ceren Oran, improvised music by artists like Martin Siewert and Susanna Gartmayer, and dance and music with Eva-Maria Schaller and Matthias Muche.
The detailed program and event map are available on our website; daily information (as, for instance, weather-related cancellations) and the livestream can be accessed via our Facebook page.
If you would like to take part in one of the concert walks, please write to us at info@studiodan.at by 26 August.
With the kind support of SHIFT. Produced in cooperation with the Brigittenau district administration and wohnpartner – Gemeinsam für eine gute Nachbarschaft.
--
We look forward to seeing you!
PS: And because 10 days in Brigittenau just isn't fantastic enough, we proudly present the Spa Concerts at Franz-Novy-Hof in the 16th District from September, 7th-11th. A production of the Kulturlabor Gemeindebau. With the kind support of the Cultural Department of the City of Vienna (MA7) and in cooperation with Wiener Wohnen.
More on these concerts in the next newsletter.