TONIKUM HANDELSKAI
-
Our means of spreading happiness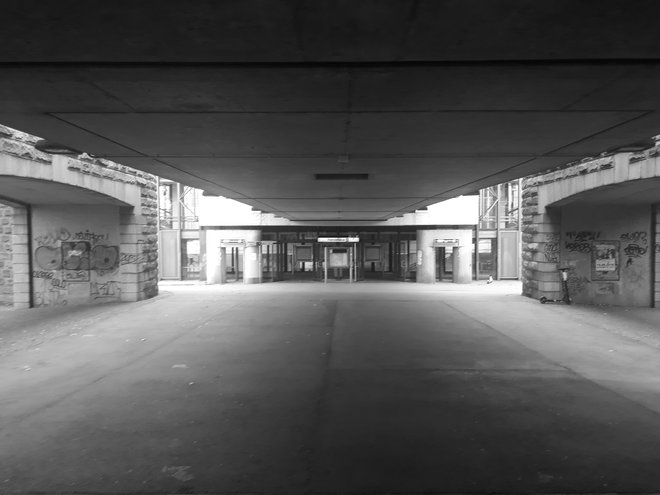 From May 12th to June 6th we will get the Viennese station Handelskai to swing.
TONIKUM HANDELSKAI is a SHIFT project by the ensemble Studio Dan. The basic idea is the long-term musical live performance, the installation of sound sculptures and the associated music education in and around the Handelskai train station, a high-frequency location. Starting from small actions at all corners, individual sounds spread to a large, unmistakable and audible overall performance. People experience art (music, installation, sound installation, performance, dance) "in passing". The otherwise functional location appears in a new light, a district is made to vibrate.
Peter Kutin and Florian Kindlinger make Japanese rice cookers ring, Christian F. Schiller combines the howling of ordinary handheld sirens with the sound of an instrumental ensemble. In a cargo container that has been transformed into a mini club, Susanna Gartmayer and Martin Siewert present the program designed as part of their carte blanche in the evening. In the same place, a video game music installation by Christof Ressi invites you to join in during the day.
In an unprecedented act of strength, the musicians of the ensembles Studio Dan play in all imaginable combinations, from solo to small orchestra, over three weeks, at all corners of the project area. Flashmob-like mini concerts and announced performances feature classics of contemporary music such as James Tenney's Postal Pieces as well as actual music from Austria by Viola Falb and Michael Tiefenbacher. In large-format concerts, both new pieces by a.o. Vincent Pongracz, as well as programs (Julius Eastman, SOS) from the repertoire of the ensemble.
The musical spectrum is also expanded to include collaborations with Eva Maria Schaller (dance and choreography), Karolina Preuschl (spoken word), Michael Moser and Nik Hummer (installation), and performances by - also - international guests such as Ceren Oran (sound painting, dance ), Matthias Muche (trombone) and the ensemble STUDIO PERCUSSION Graz.
Another constant of the project is the music-mediating work before and during the course of the project. Cooperations with the MUK (Music and Art University of the City of Vienna), the ZMV (Center for Music Education) and the surrounding elementary schools and youth centers of the City of Vienna have been established.
NO ADMISSION!
PROGRAM
Concerts:
Opening concert
SOS 2020
Studio Dan & ZMV
Music / Performance / Workshops:
Soundpainting
Femenine Moves
Planeten und Monde
Concert interventions:
WIR\US
Femenine
Bones & Tones
Timber & Drumming
Concert installation:
Club Virus
Installations / workshops:
Reispfeifen
Membranes Only
With music by:
Louis Andriessen, Anthony Braxton, Julius Eastman, Viola Falb, Michael Gordon, Mauricio Kagel, Alvin Lucier, Vincent Pongracz, Steve Reich, Christof Ressi, Daniel Riegler, Giacinto Scelsi, Christian F. Schiller, Karlheinz Stockhausen, James Tenney, Michael Tiefenbacher...
Idea & concept:
Daniel Riegler
Maiken Beer
Line-up:
Sophia Goidinger, Gunde Jäch-Micko – Koch – Violin
Julia Purgina, Rafał Zalech – Viola
Maiken Beer, Barbara Riccabona – Violoncello
Constantin Herzog, Philipp Kienberger, Manu Mayr – Double bass, E-Bass
Thomas Frey, Doris Nicoletti – Flutes
Viola Falb, Clemens Salesny – Saxophone, Clarinet
Christof Dienz – Bassoon
Dominik Fuss, Damaris Richerts – Trumpet
Matthias Muche, Daniel Riegler, Phil Yaeger – Trombone
Michael Tiefenbacher, Verena Zeiner – Piano, Keys, Rhodes, Sampling
Hubert Bründlmayer – Drums
Raphael Meinhart, Margit Schoberleitner – Percussion
Leo Riegler – Electronics
Werner Angerer – Sounddesign
Nik Hummer – Lightdesign, Concept, Installation

Guests:
Bernhard Breuer, Susanna Gartmayer, Jakob Gnigler, ILB – Integrative Lernwerkstatt Brigittenau, Didi Kern, Florian Kindlinger, Lukas König, Alexander Kranabetter, Christof Kurzmann, Peter Kutin, Michael Moser, Ceren Oran, Karolina Preuschl, Lorenz Raab, Eva-Maria Schaller, Christian Schiller, Judith Schwarz, Martin Siewert, STUDIO PERCUSSION graz, Students of MUK – Music and Arts University of the City of Vienna, Zentrum für Musikvermittlung Wien 14
Upcoming Events:
TONIKUM HANDELSKAI
26 May 2020 | 09:00
Maria-Restituta-Platz, Handelskai Wien
-
TONIKUM HANDELSKAI
26 May 2020 | 10:00
U-Bahnstation, Handelskai Wien
-
TONIKUM HANDELSKAI
26 May 2020 | 20:00
Maria-Restituta-Platz, Handelskai Wien
-
TONIKUM HANDELSKAI
27 May 2020 | 09:00
Maria-Restituta-Platz, Handelskai Wien
-
TONIKUM HANDELSKAI
27 May 2020 | 10:00
U-Bahnstation, Handelskai Wien
-
TONIKUM HANDELSKAI
27 May 2020 | 17:00
U-Bahnstation, Handelskai Wien
-
TONIKUM HANDELSKAI
27 May 2020 | 20:00
Maria-Restituta-Platz, Handelskai Wien
-
TONIKUM HANDELSKAI
28 May 2020 | 09:00
Maria-Restituta-Platz, Handelskai Wien
-
TONIKUM HANDELSKAI
28 May 2020 | 15:00
U-Bahnstation & Donauseite, Handelskai Wien
-
TONIKUM HANDELSKAI
28 May 2020 | 20:00
Maria-Restituta-Platz, Handelskai Wien
-
TONIKUM HANDELSKAI
29 May 2020 | 09:00
Maria-Restituta-Platz, Handelskai Wien
-
TONIKUM HANDELSKAI
29 May 2020 | 20:00
Maria-Restituta-Platz, Handelskai Wien
-
TONIKUM HANDELSKAI
30 May 2020 | 09:00
Maria-Restituta-Platz, Handelskai Wien
-
TONIKUM HANDELSKAI
30 May 2020 | 09:00
Maria-Restituta-Platz, Handelskai Wien
-
TONIKUM HANDELSKAI
30 May 2020 | 18:00
Maria-Restituta-Platz, Handelskai Wien
-
TONIKUM HANDELSKAI
30 May 2020 | 20:00
Maria-Restituta-Platz, Handelskai Wien
-
TONIKUM HANDELSKAI
31 May 2020 | 09:00
Maria-Restituta-Platz, Handelskai Wien
-
TONIKUM HANDELSKAI
31 May 2020 | 12:00
U-Bahnstation Handelskai, Wien
-
TONIKUM HANDELSKAI
31 May 2020 | 20:00
Maria-Restituta-Platz, Handelskai Wien
-
TONIKUM HANDELSKAI
1 June 2020 | 09:00
Maria-Restituta-Platz, Handelskai Wien
-
TONIKUM HANDELSKAI
1 June 2020 | 14:30
U-Bahnstation Handelskai, Wien
-
TONIKUM HANDELSKAI
1 June 2020 | 18:30
U-Bahnstation & Donauseite, Handelskai Wien
-
TONIKUM HANDELSKAI
1 June 2020 | 20:00
Maria-Restituta-Platz, Handelskai Wien
-
TONIKUM HANDELSKAI
2 June 2020 | 09:00
Maria-Restituta-Platz, Handelskai Wien
-
TONIKUM HANDELSKAI
2 June 2020 | 12:30
U-Bahnstation Handelskai, Wien
-
TONIKUM HANDELSKAI
2 June 2020 | 17:00
Maria-Restituta-Platz, Handelskai Wien
-
TONIKUM HANDELSKAI
2 June 2020 | 20:00
Maria-Restituta-Platz, Handelskai Wien
-
TONIKUM HANDELSKAI
2 June 2020 | 20:30
Donauseite, Handelskai Wien
-
TONIKUM HANDELSKAI
3 June 2020 | 09:00
Maria-Restituta-Platz, Handelskai Wien
-
TONIKUM HANDELSKAI
3 June 2020 | 09:00
U-Bahnstation Handelskai, Wien
-
TONIKUM HANDELSKAI
3 June 2020 | 13:00
Maria-Restituta-Platz, Handelskai Wien
-
TONIKUM HANDELSKAI
3 June 2020 | 20:00
Maria-Restituta-Platz, Handelskai Wien
-
TONIKUM HANDELSKAI
3 June 2020 | 20:30
Donauseite Handelskai Wien
-
TONIKUM HANDELSKAI
4 June 2020 | 09:00
Maria-Restituta-Platz, Handelskai Wien
-
TONIKUM HANDELSKAI
4 June 2020 | 11:30
Maria-Restituta-Platz, Handelskai Wien
-
TONIKUM HANDELSKAI
4 June 2020 | 14:00
U-Bahnstation, Handelskai Wien
-
TONIKUM HANDELSKAI
4 June 2020 | 14:30
Maria-Restituta-Platz, Handelskai Wien
-
TONIKUM HANDELSKAI
4 June 2020 | 16:30
U-Bahnstation Handelskai, Wien
-
TONIKUM HANDELSKAI
4 June 2020 | 20:00
Maria-Restituta-Platz, Handelskai Wien
-
TONIKUM HANDELSKAI
5 June 2020 | 09:00
Maria-Restituta-Platz, Handelskai Wien
-
TONIKUM HANDELSKAI
5 June 2020 | 12:00
U-Bahnstation, Handelskai Wien
-
TONIKUM HANDELSKAI
5 June 2020 | 13:30
U-Bahnstation-Rolltreppen, Handelskai Wien
-
TONIKUM HANDELSKAI
5 June 2020 | 14:30
Maria-Restituta-Platz, Handelskai Wien
-
TONIKUM HANDELSKAI
5 June 2020 | 16:30
Maria-Restituta-Platz, Handelskai Wien
-
TONIKUM HANDELSKAI
5 June 2020 | 18:00
Maria-Restituta-Platz, Handelskai Wien
-
TONIKUM HANDELSKAI
5 June 2020 | 20:00
Maria-Restituta-Platz, Handelskai Wien
-
TONIKUM HANDELSKAI
6 June 2020
Maria-Restituta-Platz, Handelskai Wien
-
TONIKUM HANDELSKAI
6 June 2020 | 09:00
Maria-Restituta-Platz, Handelskai Wien
-
TONIKUM HANDELSKAI
6 June 2020 | 11:00
Maria-Restituta-Platz, Handelskai Wien
-
TONIKUM HANDELSKAI
6 June 2020 | 12:30
U-Bahnstation-Rolltreppen, Handelskai Wien
-
TONIKUM HANDELSKAI
6 June 2020 | 14:00
Maria-Restituta-Platz, Handelskai Wien
-
TONIKUM HANDELSKAI
6 June 2020 | 16:00
U-Bahnstation Handelskai & Donauseite
-
TONIKUM HANDELSKAI
6 June 2020 | 20:00
Maria-Restituta-Platz, Handelskai Wien
Kindly support by: